Seniors – Sharks
State Cup Tournament – Coffs Harbour Friday 24th, Saturday 25th & Sunday 26th June, 2022
To apply as either a coach or player for this tournament, click on the appropriate link below:
Coach Application  –  Click HERE
Player Application  –  Click HERE (Link available 10th December)
For Player Eligibility, please click HERE (Link available 27th November)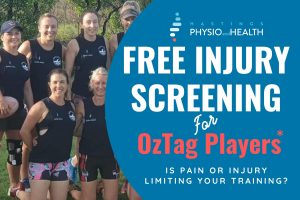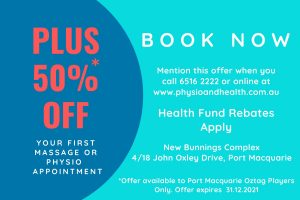 Hastings Physio & Health Voucher Offer: This entitles the players to a free injury screening, which means if they've hurt themselves at training, the physio or EP will have a quick look at the player and assess any injury and determine if physio will help and if not, they will happily or refer them onto a GP, Massage therapist or for an X ray etc for free.
If it is something we can help with, then the player will receive 50% off their first treatment session, saving them $49.50.
Players are welcome to book in for a treatment without the injury screening if they wish.
The injury screening is a 15 minute appointment and the treatment would be 30-45 minutes.
The 50% off treatment voucher can also be used for a 60 minute remedial massage session.
There is no obligation for additional appointments.
Please inform them that you are from Oztag when you call the practice to make an appointment so they can apply the discount.