Seniors – Sharks
State Cup Tournament – Coffs Harbour Friday 24th, Saturday 25th & Sunday 26th June, 2022
SQUAD ANNOUNCEMENTS BELOW: Link for Payments/orders will be available by Tuesday 15th Feb & posted here on website, Facebook & sent to coaches.  Deadline for this to be completed is 28th Feb so any players not done so by due date will find themselves being removed from the squad.
U20s Mixed Click HERE
Open Mixed Click HERE
Senior Mixed Click HERE
Only two trial dates set down due to time constraints for this moved tournament as follows: Friday 4th February from 6-7p
m & Sunday 6th February from 8.30am – 10am both at Tuffins Lane. Players MUST attend one of the two trials OR if have a legitimate reason for not being able to attend please email portseniors@oztag.com.au for consideration prior to the 1st trial date above.
TRIAL NOTE: Given the current predicted weather conditions & should fields remain closed for either or both of the above trials, the expectation is that players still MUST turn up at Tuffins to sign in & complete any required details if you wish to be eligible for selection.  Due to the time constraints we will not be able to hold any further trials which means squads will need to be selected based on those who make the effort to attend one of the 2 signup/trials. SPREAD THE WORD & SEE YOU ALL THERE FOR THE FOLLOWING DIVISIONS: Senior Mixed, Senior Womens, Open Mixed & 40s Mens.
To apply as either a coach or player for this tournament, click on the appropriate link below:
Coach Application  –  Click HERE
Player Application  –  Click HERE
Player Eligibility, please click HERE
Code of Conduct, please click HERE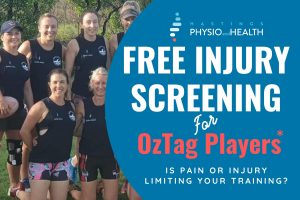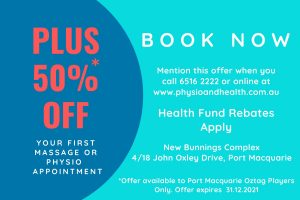 Hastings Physio & Health Voucher Offer: This entitles the players to a free injury screening, which means if they've hurt themselves at training, the physio or EP will have a quick look at the player and assess any injury and determine if physio will help and if not, they will happily or refer them onto a GP, Massage therapist or for an X ray etc for free.
If it is something we can help with, then the player will receive 50% off their first treatment session, saving them $49.50.
Players are welcome to book in for a treatment without the injury screening if they wish.
The injury screening is a 15 minute appointment and the treatment would be 30-45 minutes.
The 50% off treatment voucher can also be used for a 60 minute remedial massage session.
There is no obligation for additional appointments.
Please inform them that you are from Oztag when you call the practice to make an appointment so they can apply the discount.