The 2020-21 Summer Junior Oztag Competition will commence on Monday October 19th. Games are played at 4.15pm and 5.00pm at West Tuffins Lane.
Tuffins Lane Field Map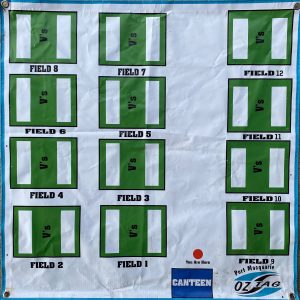 Divisions are mixed and range from 8 Yrs & Under; 10 Yrs & Under; 12 Yrs & Under; 14 Yrs & Under and 16 Yrs & Under.
There is also a MiNiTaG Division for 5 and 6 year olds, $50 for Term 1 OR use the Active Kids Voucher and get a pair of shorts too.
The MiNiTaG clinic is on 15th February for all players from 4.30pm – 5.30pm. Then the remainder of the term they will be playing games.
Registration
Registration Cost is $100 and this includes a playing shirt and 12 weeks of games plus a Semi Final and Grand Final week of games for teams that qualify.
Use your Active Kids Voucher to cover the full cost. Official oztag shorts/tights must be worn and can be purchased at the ground. Shorts and tights range from $30-$50.
HOW TO REGISTER
Online Registration is the preferred option and is available now.
There are 2 ways to register:
As a team delegate OR as an individual.
As a team delegate you click HERE.  Then click on green button Register Team.
As an individual, you enter the code that represents your age group, copy it before you click HERE: Click on the green button, Join Team, then you enter the code that is your age group.
MiNiTaG – Individuals – sf32264mht4
If you are 8 yrs and Under (but not MiNiTaG) – sf29188risz
If you are 10 yrs and Under – cm222677itz2
If you are 12 yrs and Under – sf29190z3k4
If you are 14 yrs and Under – sf29191x3ut
If you are 16yrs and Under – sf29192ct1n
All players will need to create a new account, and follow the instructions.
When you arrive at the page for payment, there are 3 options.
Pay using your Active Kids Voucher (enter the voucher number)
Scroll down to Payment Option and click on the drop down arrow to choose either credit card
OR pay later*
*Registration afternoon will be held at SportsPower on Tuesday October 6th, 4pm – 5.30pm and also at the Holiday Skills Clinic on the same day.